Since Ed O'Neill decided he was the best judge of who does—and does not—deserve their Emmy, we've been wondering what Glee's bitchy Sue Sylvester has to say about it.
After all, she's not only played by the fab Jane Lynch—but Lynch herself was specifically O'Neill's target.
The jealous douche had the gall to say that his Modern Family costar, Sofia Vergara, deserved the Emmy, not Jane. He said Lynch's character was "one-note," among other insults.
Well, what does J.L. have to say about it all?
Not much.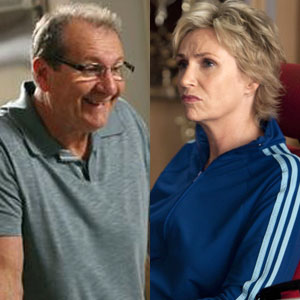 Look, we love us some Lynch over here at Awful Truth, so much so, we ignored O'Neill's jealous tirade at first. I mean, isn't it obvious?
Ed was never nominated for an Emmy for Married With Children. Add to that little hurt the fact that every other cast member of Modern Family was nominated for an Emmy this year—except Ed.
Easy to see where this guy's head is at.
So where's Jane's?
We finally decided to call her rep and say we were so repulsed by Ed's fat mouth, we just had to find out what the divine Sue was thinking.
Here was Camp Lynch's remarks:
"Thanks for being repulsed," Jane's rep emailed us. "But let it go, that's what we're doing."
And then the rep added one of those adorable smiley faces that usually make us want to puke. But this time, it just made us laugh.
Do you think that's what was missing from Ed's statements? A smiley face?
I'm sure he just forgot to add one.
Source: EOnline