If Kurt can smooch a sexually confused, bullying football player, surely he'll be locking lips with Blaine, right?
Not so fast, Gleeks…
"Not yet," Chris Colfer told me the other night at the GQ Men of the Year party when I asked about kissing Darren Criss.
He laughed, "I don't know, but I think maybe one gay kiss is enough for at least these 10 episodes. Maybe another one in the back nine wouldn't hurt."
Colfer also kinda confirmed that Criss will be following up his hit rendition of "Teenage Dream" with Train's "Hey, Soul Sister."
A Glee cast cover of the tune is already listed on Amazon.com, but the site notes it's not available yet.
"He does great with this one, too," Colfer smiled. "I want to tell you...OK, it's a famous one. It's on the radio quiet a bit...Okay, I'll give you a hint—choo-choo."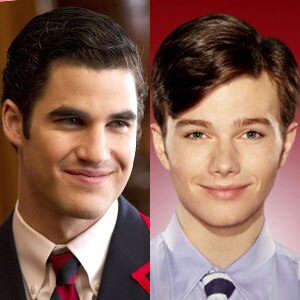 Source: EOnline