15. OLIVIA NEWTON-JOHN
She may have a ridiculous accent, but she helped Sue Sylvester land a spot among the Top 700 recording artists. Their remake of Newton-John's iconic and campy music video ''Physical'' was not quite on a par with Sue's ''Vogue,'' but it was another brush with fame Sylvester can tell her frightened subjects about.
14. CHEYENNE JACKSON
New Vocal Adrenaline coach Dustin Goolsby was mysterious yet conniving (he swooped up newcomer Sunshine Corazon from New Directions in the season 2 premiere). We're still holding out for Will's revenge and a good Vocal Adrenaline-New Directions showdown, but in the meantime, we wouldn't mind seeing the Broadway veteran perform.
13. EVE
As Jane Addams Academy's choir director Grace Hitchens, Eve was a fierce competitor who preached the benefits of ''hairography.'' She wasn't the most honorable coach, encouraging her students to cheat to get ahead, but she's good to have around in case of pickpockets.
12. JOHN LLOYD YOUNG
We still don't know why this Tony Award-winning actor (Jersey Boys) wasn't invited to sing during his one episode appearance, but as cough-medicine-addicted shop teacher Henri St. Pierre, Young brought enough quirkiness to the early episode to help establish Glee's unique comedic voice.
11. JOSH GROBAN
Groban was grouchy, self-absorbed, spoke in the third person, and flirted with Will's mom (Josh Groban loves a blousy alcoholic…). Both season 1 appearances were the opposite of what you'd expect from the singer, which made them totally enjoyable.
10. MOLLY SHANNON
Unfortunately, we didn't get to hear her sing, but as new astronomy teacher (and recovering show choir addict) Brenda Castle, Shannon has been the only person who has really managed to put a wrinkle in Sue Sylvester's perfectly ironed tracksuits.
9. BRITNEY SPEARS
Britney Spears as herself, in Brittany S. Pierce's anesthesia-induced fantasy? Yes, please.
8. JOHN STAMOS
Dr. Carl Howell managed to break down several of Emma's walls, and as a Rocky Horror enthusiast, he reminded us of that sweet voice we've been missing since Jesse and the Rippers disappeared from our lives.
7. CHARICE
The tiny powerhouse is perhaps the one age-appropriate rival who makes Rachel Berry nervous (which is why Dame Berry sent her to a crack house instead of the choir room). As exchange student Sunshine Corazon, she added another ballad to the New Directions repertoire with a powerful version of ''Listen'' that was so impressive, it caused Vocal Adrenaline to snatch her up before her first McKinley practice.
6. IDINA MENZEL
The Broadway diva played the part of Rachel's biological mother and Vocal Adrenaline coach, Shelby Corcoran, with the right amount of emotional detachtment and competitive spirit. With her striking resemblance to Lea Michele, their mother-daughter duets on ''I Dreamed a Dream'' and ''Poker Face'' were like gifts from the diva heavens, and have had us waiting for her return to the Broadway stage ever since.
5. JONATHAN GROFF
It was a Spring Awakening reunion when former costar Jonathan Groff became Lea Michele's new love interest Jesse St. James in season 1. Jesse transferred to McKinley midyear to join New Directions and be by Rachel's side, but it was his performances for rival Vocal Adrenaline (''Another One Bites the Dust,'' ''Bohemian Rhapsody'') that really impressed us. Yes, he was a hotshot (''UCLA. Ever heard of it? It's in California''), but he certainly could back it up. Oh, Jesse, raw eggs never hurt so bad.
4. KRISTIN CHENOWETH
As former McKinley queen bee April Rhodes, Chenoweth brought immense likability to the pint-size fallen diva who is partial to daytime wine and always happy to share shoplifting techniques. Even though having April join New Directions was a little weird, Chenoweth's voice is undeniable. Plus, she was the perfect bad influence the kids needed, if only for a day or two, just to prove they had what it takes to be cool.
3. GWYNETH PALTROW
Holly Holliday and her itinerant ways (''I never sign more than a month-to-month lease, I only eat off paper plates, I live on one night stands'') were a breath of fresh air compared with Mr. Schuester's Journey-only glee-club regime. Ms. Holliday encouraged the kids to pursue music they wanted to perform, and was enough of a goofball to jump in there with them. She tackled Rihanna, Chicago, and ''Forget You.'' So yes, Santana: She knows a little something about Cee Lo.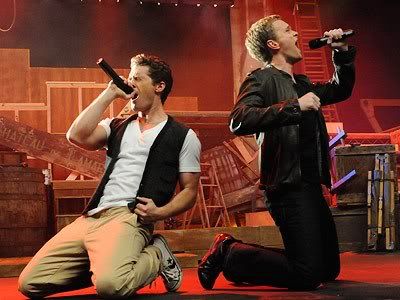 2. NEIL PATRICK HARRIS
Harris won an Emmy for his role as Bryan Ryan, Will Schuester's high school glee-club nemesis (back from a time when mullets were considered cool), whose glee-club days were far behind him — he went from King's Island performer to West Lima crack-district denizen (Ohio really needs to do something about this drug problem) — or so we thought. Highlights included a powerful ''Dream On'' duet with Matthew Morrison and the introduction of Ryan's show-choir conversion group (of which Brenda Castle is also a member).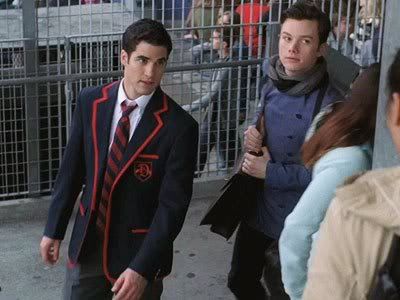 1. DARREN CRISS
Perhaps the most anticipated guest star with the shortest résumé? A Very Potter Musical YouTube sensation Darren Criss joined the cast this season as Dalton Academy heartthrob Blaine, seamlessly entering the fold with his charm and great voice. An openly gay student, he serves as both a mentor and possible love interest for Kurt, but his rendition of Katy Perry's ''Teenage Dream'' — which is currently smashing sales records — would make anyone weak in the knees.
Source: Entertainment Weekly